Perth Festival
We rapidly transformed Perth Festival's digital presence and helped make the 2019 festival a huge success!
Background
Perth Festival came to Bravo with a website that was not meeting their needs or their user expectations. They knew they needed to change, and do it fast. Our brief involved rebuilding the site from scratch and launching within 4 months in time for the 2019/20 festival. 
Despite the physical distance between us, we built a tight partnership and produced an incredible result that was met with adulation from the clients and users alike.
18%
increase in avg. order value
Outcome
Perth Festival's new website is centred on the user and their goal of participation in the amazing festival. The new artistic direction from Iain Grandage and an ambitious program of events across contemporary music, performing arts and film, plus the education and community work of the festival.
The visually striking website is fully device responsive, built on Umbraco Content Management System, integrated with Tessitura Network Express Web 7.0 (TNEW). It includes an acknowledgement of country for first-time visitors, accessible content, member rewards and offers, flexible and versatile components and templates for marketing and more.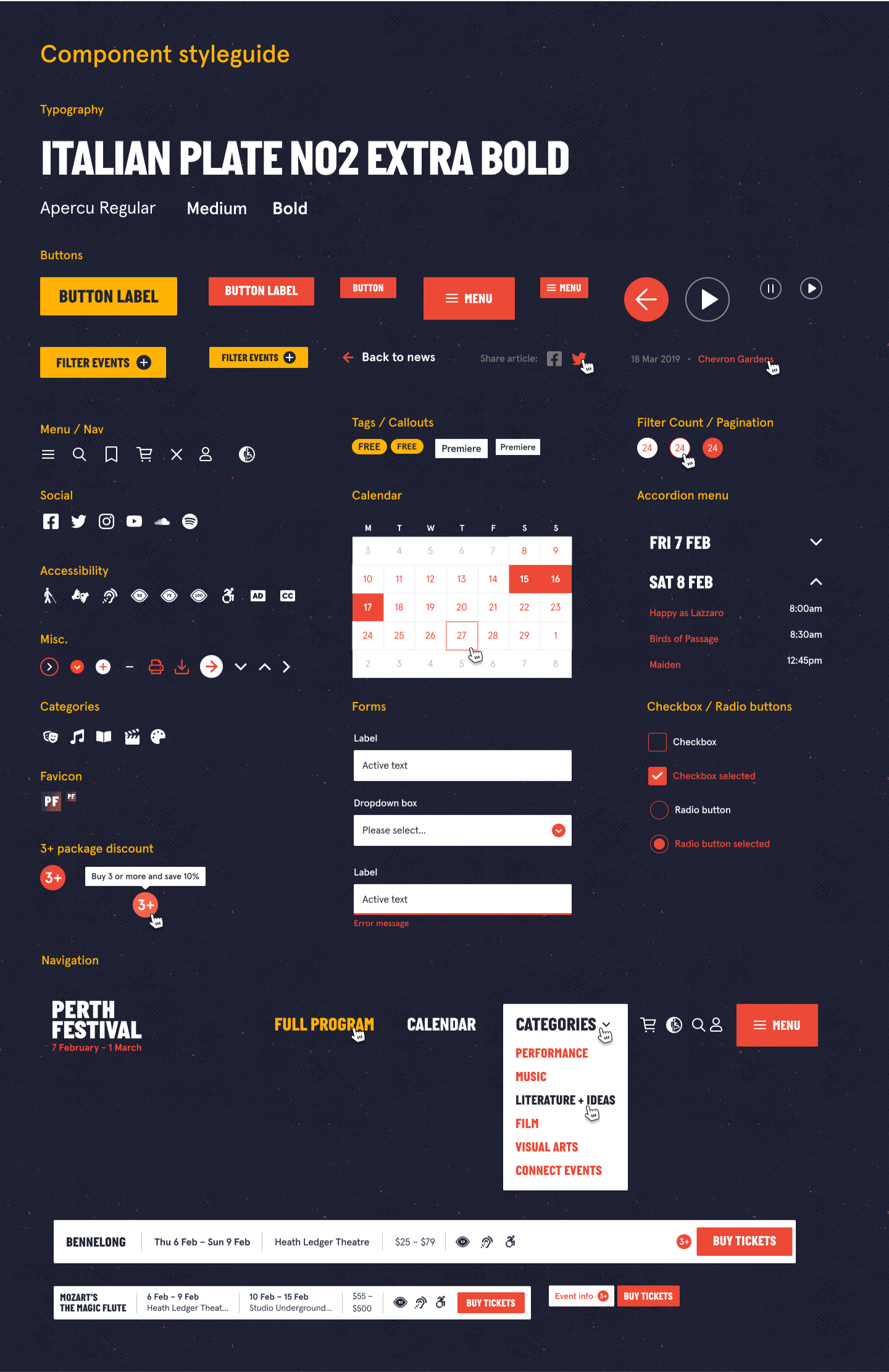 Our solution
Working closely with the Perth Festival team, we transformed their online presence with a brand new, user-centred mobile-responsive website and purchase pathway in a rapid timeframe. Key features of our solution include:
A visually stunning presentation of the 2021 festival's "river" theme, paired with best practice UX, reveals an eclectic array of international performing arts events supported by an easy-to-use ticketing pathway
Solving an awareness problem briefed in by our client, an engaging fullscreen video entry utilises an Instagram Story-esque interface to show visitors the five key streams of experiences available at the Festival in just a few seconds
Single-sign-on for users to navigate from the marketing website through to the ticketing purchase pathway on Tessitura
Integration with Tessitura CRM and TNEW7 ticketing purchase path.
Dynamic real-time content updates in Umbraco optimises campaign management.
WCAG2.0 AA accessibility compliant 
Cost-effective, secure, scalable and well-supported technical ecosystem
Analytics to enable continued optimisation
Services provided
Stakeholder facilitation
Discovery and digital strategy
User Experience (UX) design
Art direction
Visual design
Mobile responsive front-end website development
Back-end application development (Umbraco CMS)
Tessitura/TNEW purchase pathway
Testing
Hosting and support
Next case study
Welcome Fit
We created an interactive, real-time streaming workout platform to connect athletes and trainers wherever they are.