Melbourne International Arts Festival
We built a Webby Award-winning festival website that broke box-office records.
Background
Melbourne International Arts Festival (MIAF) has presented international arts performances to the people of Melbourne for over three decades, with events taking place across the city for three weeks every October.
Facing increased competition in the events space, MIAF first approached Bravo in 2014 to create a new and much more flexible website, with a key goal to engage with and grow the Festival's target audience. Since then, MIAF has become a long-standing Bravo partner and we've collaboratively improved their digital presence each year, winning a Webby Award for Best Events Website in 2019. MIAF is currently undergoing a transformation and we're excited to contribute to its continued success.
21%
Increase in online sales
405,000
Average annual website users
Outcome
With a constant goal of increasing ticket sales, the websites built by Bravo for MIAF have enabled the percentage of ticket sales online to increase from 60% to 81% since 2014. MIAF website visits increased by more than 70% in that same time. The 2018 festival broke their previous box office record at $3.5 million in revenue with $3 million of online ticket sales transacted through the website.
The 2018 MIAF website won Best Events Website in the 23rd Annual Webby Awards. Hailed as the "Internet's highest honour" by The New York Times, The Webby Awards is the leading international awards organisation honouring excellence on the Internet.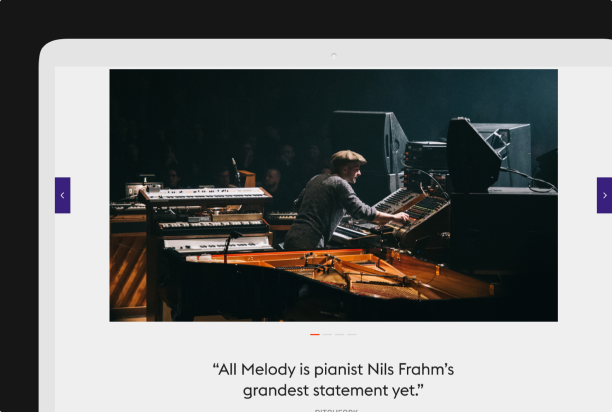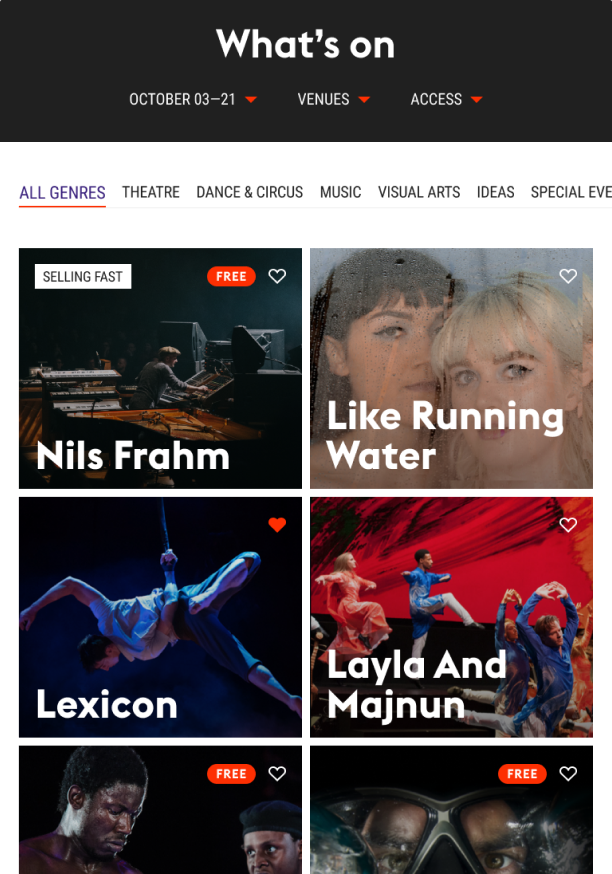 Bravo has been a critical part of our digital transformation, and integral in our success in increasing the percentage of ticket sales online from 60% in 2014 to 81% in 2018. Their eagerness to collaborate with our team to deliver an exquisite experience for website visitors is constantly refreshing, and we look forward to working with them into the future.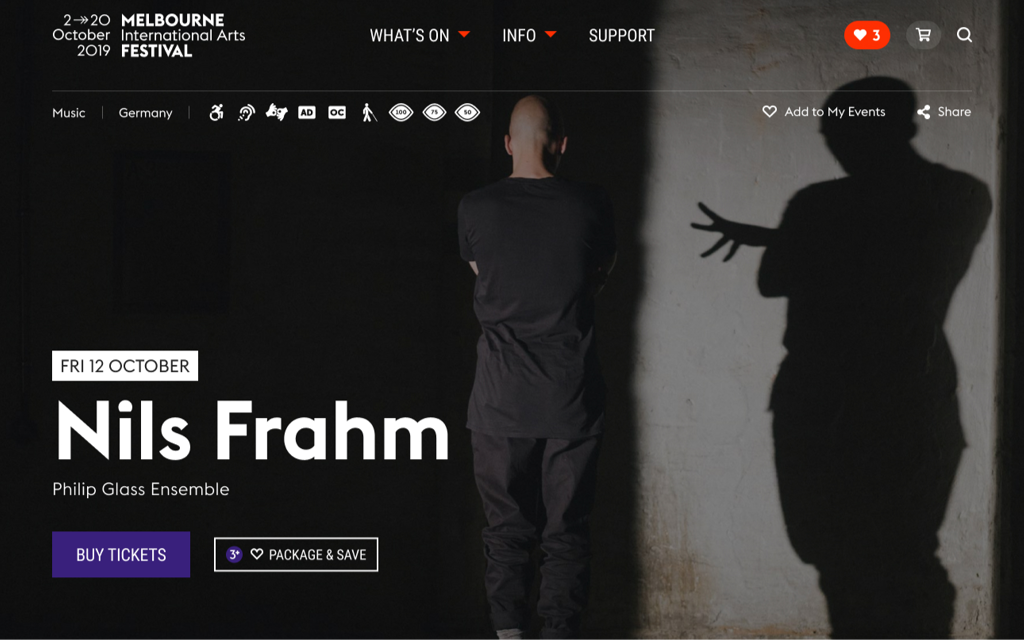 Our solution
Bravo has progressively built a mobile-optimised, content managed website based on the flexible, secure and scalable open-source Umbraco CMS platform to showcase the MIAF brand and drive ticket sales and engagement. The site is integrated with Tessitura CRM and TNEW7 ticketing purchase path and various marketing systems such as Olark Live Chat and social media.
For the 2018 festival, Bravo launched a major UX and design-led overhaul of the MIAF site that introduced a rich set of features, including:
An immersive, fullscreen auto-play video presentation of the showcase productions for the 2018 program of events, providing an impressive opening fit for this awe-inspiring festival across all device types
Video used within the event tiles on the Home and What's on pages which auto-played when hovered over, bringing interactivity, energy and movement wherever possible
Videos embedded within performance pages to showcase events
Seamless translation of the iconic Melbourne International Arts Festival brand identity into digital with flawless transitions and functionality in the Tessitura ticketing platform
Supports dynamic content and real-time updates within the content management system (Umbraco)
Mobile-optimised content managed website based on the flexible, secure and scalable Umbraco CMS
Seamlessly integrated with Tessitura CRM and TNEW 7 ticketing path
2018 user and design led overhaul of the site with hero video content including an immersive, fullscreen auto-play video on homepage, video within the event tiles and performance pages to add energy and movement
Dynamic real-time content updates and digital marketing system integrations in Umbraco to optimise campaign management
Services provided
Digital Strategy
User Experience Design
Art Direction
Visual Design
Mobile Responsive Front-end Website Development
Back-end Application Development (Umbraco CMS)
Payment & Ticketing Solution (Tessitura)
Hosting
Next case study
Salta Properties
We matched Salta Properties' corporate digital presence with their premium brand and market position.